Meet the full-time female magician who lives out her Harry Potter fantasies for real.
Article in The Mirror by Sheila Prophet
This article is copied from the original which can be found here - The Mirror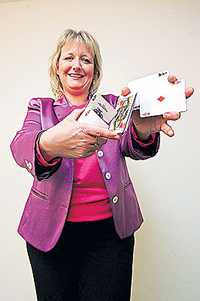 Like many children growing up in the 70s, Jayne Corrigan was given a Paul Daniels magic set for Christmas. But unlike most other three-year-olds, she wasn't bored with it by Boxing Day.
"I think I took it a bit too seriously," says Jayne, 39.
"I practised the tricks until I could perform them for my family and friends, and after that I was hooked. Every year on my birthday I was taken to Hamley's in London to pick out a new trick."
Jayne's interest in all things magical continued throughout her schooldays.
"I was always practising and performing for friends, but I thought of it as a hobby. I went on to do lots of other jobs – working in human resources and training people in job interview techniques before setting up my own company specialising in complementary therapies."
Jayne, who lives in Weston-super-Mare, Somerset, adds: "About seven years ago, I joined a local magic club, the Exonian Magic Society, where I met lots of people who were getting paid for doing magic and I realised I could do it, too."
Jayne – mum to twins Max and Evie, who will be seven next month – now performs at everything from corporate events to weddings, moving from table to table bamboozling audiences with skilful close-up magic.
"I work with small items such as cards and coins," she says. "My favourite trick at the moment is the card on the glass where someone picks out a card, then throws some cards at a window and their card magically appears on the other side of the glass.
"It's great seeing people go 'Wow, how did you do that?'
"Magic is basically about people – entertaining your audience and building a rapport with them.
"Anyone can do magic, but to become a professional you really have to love it because it takes dedication. When I am learning a new trick it can take up to a year before I'm ready to show it to an audience."
Jayne is one of a select group of women who have been accepted into the famous Magic Circle. "There are only around 70 women members among 1,500 men," she says, "and we have only been allowed to join since 1991.
"To become a member, I had to perform before a panel including Ali Bongo and Paul Daniels. I don't really like performing for other magicians because there is no sense of wonder about it, they are simply looking at your technique. But they were all very nice to me, including Paul himself."
Jayne has also just won another accolade – Bristol's Close-Up Magician of the Year. And keeping things in the family, her partner Derrick Leppier, who uses the stage name Delboy, won Children's Entertainer of the Year.
"It was our work that brought us together – we met at a balloon modelling workshop," says Jayne. "He usually works in the afternoons while I work evenings, so one of us can always be at home with the children. At the moment, though, we are so booked up with Christmas parties we hardly see each other.
"This is always the busiest time of the year and it's a lot of fun but it does mean I have to be very organised. I finished all my Christmas shopping weeks ago.
"We have both agreed to stop work on December 23, so we can have a proper family Christmas."
That promises to have an extra touch of magic as Max and Evie are proving to be chips off the old block.
"They already do tricks and make balloon shapes," says their mum. Though female magicians are still vastly outnumbered by men, the Magic Circle says that following Harry Potter, many more young girls are keen to join its Young Magicians' Club.
Jayne says: "If you are interested in magic, go for it! When you are being paid for what you love doing, life doesn't get much better!"